Steps to get a Sex Job in Vienna
If you are looking for a sex job in Vienna or you are thinking about it, there are certain steps that can help you in finding the right job for you. This article contains useful information about things you should do before applying to any business in Vienna, as well as some things you should decide before you start your career. Read the blog post and find out everything you need to know about getting a sex job in Vienna now!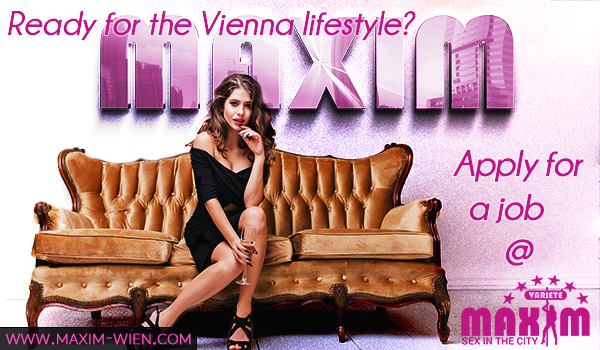 What type of brothel you want to work at?
Choosing a brothel type will determine your working conditions, as well as your earning potential. Additionally, deciding in which type of brothel you want to work at will determine what you need to do to be successful at your job.
Different types of brothels require different skills from you, so you should definitely decide on where you want to work. For example, a sex club job will require you to be a good talker to maximize your earnings. Because of this, choosing the type of brothel you want to work at is one of the most important steps to get a sex job in Vienna.
We published a post about the earning potential of different types of brothels in Vienna. You can read the article if you wish to know more about how you can make the most money in Viennese brothels: Earning potential of sex workers in Vienna
Choosing the right establishment for a sex job in Vienna
After deciding on the type of brothel, it is time to check businesses that are recruiting girls. There are numerous ways of doing this, and we will list a few methods here.
The first thing you can do when choosing the business for your sex work is checking their recruitment pages. Most serious businesses in Vienna have a dedicated page for girl recruitment on their website. You can learn a lot of valuable information through these pages and in most cases you can even apply immediately.
Another way of deciding where you want to work at is doing some online research about the places – doing sort of a background check. You can do this by simply searching for the business online or you can dig deeper and look for information about them on online forums.
For example, the SV Forum is a great place to get this type of info and you can even ask the community if something isn't clear.
Deciding what kinds of services you want to offer
Knowing exactly what you will and won't do is key to having a pleasurable and profitable sex job career in Vienna. This is important because there are some places that require you to offer certain services to be the most efficient.
For example most cheap studios have girls who offer sex without condom. Although we do not recommend offering this, in case you want to work at a particular studio that has AO sex on offer, you won't be able to make the most money without offering it.
Another example would be girls in escort work who are offering their services for couples. This is also a service that is highly sought after and one that could boost your income working in a sex job in Vienna. Because of this, knowing what types of services you wish to offer is very important and something that should be given a lot of thought.
Having the right papers to start working in Vienna
Certain legal documents are required to start your career in Vienna. For example, all legally working girls in the capital of Austria need to have themselves tested for STDs multiple times while they are active. This is also required before you receive the papers to start working. You also have to report to the authorities that you wish to start working in a sex job. Before you can actually start working anywhere in Vienna legally, you will have to acquire all of the required documentation.
Information regarding the paperwork necessary for starting your sex job career in Vienna can be found online or by asking the business where you wish to start working for help.
Benefits that come with certain types of businesses
Different types of sex jobs offer different benefits. For example, girls who work in high class escort jobs are often taken to romantic dates and all sorts of events and happenings. This could be a huge deciding factor for you if you like being treated like a lady.
On the other hand, if you start working in a sex club, you could meet plenty of generous gentlemen. Each system has its advantages and disadvantages. It is best if you learn about these and decide which benefits are the most appealing to you.
Having appealing pictures of yourself helps
Almost all businesses in Vienna will ask for some sort of pictures that you're on to see how you look. This is part of the interview process and it's the perfect chance to make a great first impression.
Instead of taking a couple of selfies when asked for the pictures, be ready and have some photos taken beforehand. You will have a much higher chance of getting the sex job if you have attractive and well photographed pictures.
Conclusion – Sex jobs in Vienna
Following the things that we have mentioned in this blog post will greatly increase your chances of landing the desired sex job in Vienna. With the above mentioned tips, you should be ready to start looking for and applying to your dream job.
Do not be shy and send in your application to whichever business you would like to work at. There's really nothing that you can lose, but on the other hand everything to win. With confidence, the right mind-set and hard work, there's really no limit to how much you could be earning. So go ahead, start implementing the tips that we have shared in this post and go for the sex job that you set your eyes on!