4 Reasons Why sexjobs can be better than regular jobs
As the Viennese sex scene is booming right now, starting a career in a sex job can be a life-changing opportunity if you wish to make a lot of money and have fun doing it. There are numerous reasons as to why we think sexjobs can be better than almost any regular job.
We will be expanding on these reasons in the following paragraphs, so be sure to stick around till the end of the article to learn everything we have to share. Without wasting any of your time, here are some of the reasons why you can have a better time in sexjobs than in regular jobs!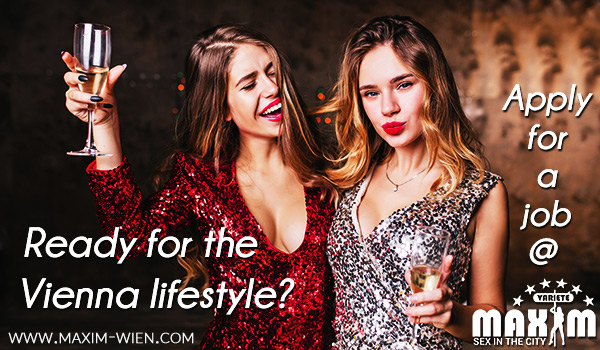 1. You can make more money with sexjobs than regular jobs
Let's address the elephant in the room first; the money that can be made with sexjobs. The reality is that a sexjob (if done properly) can yield more money than almost any regular nine-to-five job. This can be attributed to the fact that there are a lot of people looking for female companionship in the capital of Austria. Additionally, the ladies who are working in this line of work are usually being paid nice sums of money for their services. Of course, this depends on where you start working at, as well as the quality of the services that you'll be offering.
If you wish to learn more about how much money can be made with sexjobs, check out the following publication on our blog: Earning potential of sex workers in Vienna
2. You get to work in the beautiful city of Vienna
If you choose to pursue a career in Vienna in a sex club job, you will have the privilege of working and living in one of the most beautiful cities in Europe; Vienna. Not only is the quality of life much better than in other cities, but the capital itself is a gorgeous place to be. With seemingly everything around you that you could want, you are definitely not going to have an unpleasant time in the city.
To add to this point, since Vienna is a popular city for businessmen and other international travellers, you are going to have an easier time finding the proper sexjob too. Vienna offers countless possibilities that you just have to seize for yourself.
3. Working in a sexjob can be a lot of fun
Not only can you make a lot of money with sexjobs, but you can have a great time while earning your salary. Women in this line of work usually have a lot of fun in their workplace and you can meet a plethora of interesting gentlemen along the way. You get to wear beautiful, stylish and elegant dresses and go on various adventures with your clients.
For example, high class escort jobs are usually offered as companionship by sophisticated and wealthy men for different occasions. On the other hand, if you start working at a sex club, you can drink and party with your clients and have fun this way. And let's not forget that you will usually get spoiled by these gentlemen you meet.
If you wish to know more about the differences between working in a sex club or as an escort, don't forget to read the following post: What is the difference between sex club job and escort?
4. You don't really need a high qualification for sexjobs
Businesses that offer sexjobs and are looking for women who want to start working in the sex industry won't require high qualifications or a master's degree from you. Most of the time, it is not a problem if you don't have any previous experience in doing a sexjob. Newcomers are very welcome in Vienna and there are many businesses that specifically look for new talent. Because of this, there's nothing really standing in your way of getting an amazing job in Vienna.
We would like to point out that although there are no high requirements for working in sexjobs, you will need to be entertaining and interesting for the clients in order to make the most of it. Being able to easily converse with people, to keep them interested in you and to make them feel good isn't always the easiest task. Good manners and generally keeping good care of yourself and your look are also crucial in becoming successful at this job.
Conclusion on why sexjobs are better than regular jobs
Sexjobs can be a hard, but rewarding and working in a sexjob is not all sunshine and rainbows. This can be a hard and exhausting profession that not everybody can do. However, if done properly, it can be a great experience for you. If you are able to be successful at your job, you could retire in a few years and start your own business or invest the earned money somehow. Now it's just time for you to be determined and look for the best possible sexjob in Vienna!
To learn more about how you can get a job in Vienna, which are some of the best places to get sex work in Vienna at or anything else that you might be interested in, go ahead and take a look at these related articles:
Steps to get a Sex Job in Vienna
How to Get Sex Work in Vienna and Austria?
Where to find high class escort jobs in Vienna