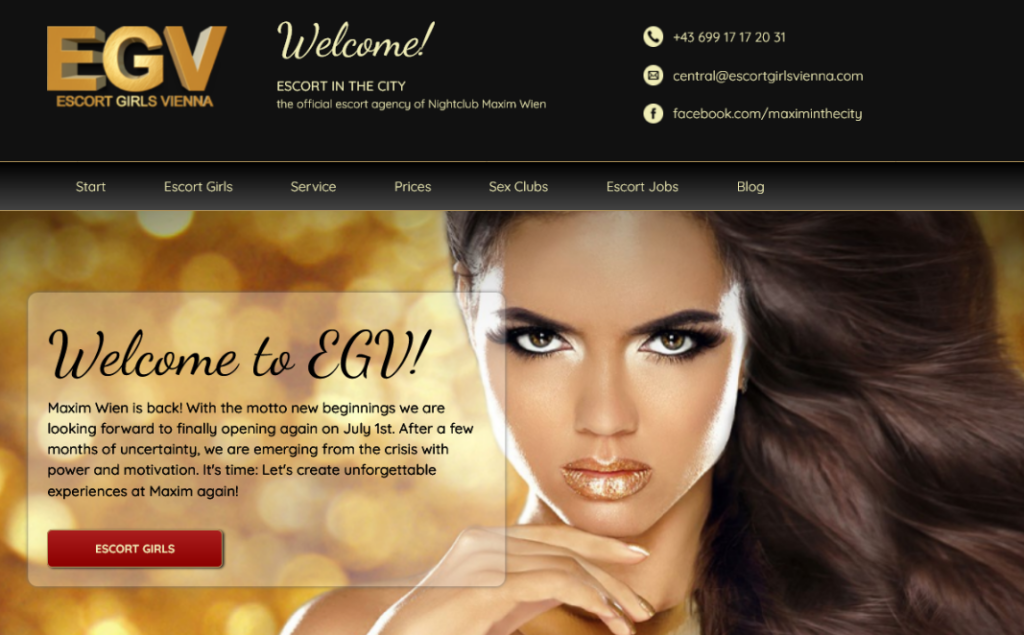 Escort Girls Vienna – High Class Escort Agency in Wien
Escort Girls Vienna, also known as EGV has been a part of the Vienna escort scene for a long time now and the agency has served many satisfied customers over the years. Not only is EGV a high class agency, but it is also the official escort agency of the Maxim Wien club.
Because of this, many punters choose Escort Girls Vienna as their go-to agency when it comes to escort bookings. If you want to learn more about Escort Girls Vienna in general, or you want to see what it would be like working at this agency, be sure to keep reading the post!
General information about Escort Girls Vienna
The Escort Girls Vienna agency offers high class escort services to their clients in Wien. The agency usually has a lot of pretty ladies available for booking, all of which can be viewed on their website. The girl profiles on the site contain details about the ladies, as well as real photos of them.
The booking of the ladies is also done through the website, via their individual pages. Clients need to fill out an online form with basic information about the booking. After this, the agency usually contacts the client for final arrangements. Booking through the website is easy, and since this is a professional escort agency you can always count on them to help you in case you require further information or assistance.
EGV offers bookings of two, three, four and five hours. A two hour booking costs 500 euros, three hours costs 700 euros, four hours is 800 euros and it costs 900 euros to book an EGV lady for five hours. The Escort Girls Vienna ladies are professional high class escorts who know exactly how to behave and entertain their clients for hours. Not only are they exceptional lovers, but they are also good conversation partners as well.
Official escort agency of Maxim Wien
EGV is the official escort agency of the Maxim Wien all-in-one club. Maxim is among the most popular clubs in the city, with a rich history and countless pleased clients. Some of the most beautiful girls have worked and are currently working in the club, and this means that through EGV they can also be booked for escort.
Of course not all of the Maxim ladies are available for escort, only the ones that offer that service. However, this is still an amazing opportunity to spend a night with a Maxim girl in private. If you'd like to learn more about the club, be sure to read the Maxim Wien review that was posted on our partner site!
Working at the Escort Girls Vienna agency
Working at this agency can be an extremely lucrative opportunity. The ladies who work at this agency often meet businessmen and gentlemen from all over the world. These men like to give gifts to the girls they meet, take them to fancy places in the city and generally pamper them with everything nice. As far as we know, the agency itself is very respectful towards the girls who work there and they are compensated fairly.
In addition to the opportunities offered by the escort aspect of the job, girls who work at EGV also have the option of applying for a job in the Maxim Wien sexclub. This would mean a variety of different benefits and opportunities for the ladies. Because of this, starting your escort career at the Escort Girls Vienna agency can be a very profitable job from the get-go. For more details, check out the agency's website!
Conclusion on Escort Girls Vienna
Overall, EGV is a very professional and fair escort agency. They have built up a reputation in the city for offering high class escort services, as well as for being the official escort agency of the Maxim Wien club. Having the option of booking Maxim ladies for escort bookings is something that shouldn't be passed up.
From a job standpoint, EGV is fair with the ladies who work there and the women always have work to do and money to make. Lastly, there are many positive reviews online of the Escort Girls Vienna agency. Because of this, and our personal experience with the agency, we can wholeheartedly recommend this agency. Escort Girls Vienna is great for clients looking for high class escorts, as well as women who wish to become professional high class escort ladies.
Apply now to Escort Girls Vienna
Apply now to Escort Girls Vienna and start your carreer as luxury escort girl!
Escort Girls Vienna
+43 699 17 17 20 31
Website: https://escortgirlsvienna.com/
Related articles to read
In case you wish to read more posts from our blog, be sure to check out some of the following articles in their entirety. Click on the links and read the full posts!
Victoria Escort – Luxury Escort Agency in Vienna
We recently published a review of another luxury escort agency in Vienna. Victoria Escort is also a professional business that is highly recommended. It is also a fantastic place for women who wish to work in the Vienna escort scene. Check out the post about Victoria Escort now!
For sex workers, counseling and extra protection are essential
The most important thing in the sex business is for the women to actually feel comfortable and safe while they are working. Because of this, many initiatives have been started to protect, guide and support sex workers. If you're interested in reading more about sex workers receiving counseling and extra protection, click on the following link and read the post!