Do you want to work in Vienna as Escort Girl? Read our articles about the Best Escort Agencies in Vienna, how you can apply for Escort Work in Wien and other useful information.
Get your papers, choose the Best Agency and start your Sex Worker carrier in Vienna!
Escort Work in Vienna
Are you looking for a high-class escort job in Vienna? Interested in becoming a top class escort lady? Then you have come to the right place! Check out the articles below about escort jobs Wien and learn about everything that you need to know before you can start working legally in one of Vienna's best escort agencies! Escort work in Vienna can be a very lucrative and enjoyable profession if you know what you're doing and if you make the right decision. This is where we can help you!
The articles that you'll find below showcase some of the best escort jobs Vienna. You'll also be able to learn useful tips that can help you in landing the perfect job. Read the following articles about escort work in Wien and you will be more than prepared to start your career as an escort lady. Find out more about the documents that you need to work, as well as the most successful agencies to start working at. Making the right decision is immensely important, as this will determine how successful your escort career is going to be. So do not hesitate and take a closer look at all of the articles that you can find here right now!
Articles in Escort Work in Wien category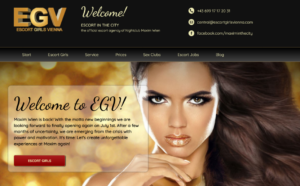 Escort Girls Vienna, also known as EGV has been a part of the Vienna escort scene for a long time now and the agency has served many satisfied customers over the years. Not only is EGV a high class agency, but it is also the official escort agency of the Maxim Wien club. Because of…
Read More